Chapter 570: Kurama!!

While Kurama silently cheers him on, Naruto pulls the chakra rod from Son Goku and destroys it with a pair of Rasengan. Naruto is dismayed to find when this is done that Goku is still chained. Goku explains that the stake temporarily bound his chakra to the human host, but that Madara is still controlling his chakra via the Gedo Mazo. Naruto is angry that he hasn't really saved Goku after all. Goku is surprised by his sincerity and explains that what he told him to do was to stop him from crunching Naruto, not to save himself from Madara's control. Naruto asks how he can save him, but Goku wants to give him something else first. He reaches out his fist to Naruto, who bumps it with his own fist.



Son Goku offers Naruto something that will help him.

The next moment the Gedo Mazo sucks Goku back into it, leaving the lifeless form of his jinchuriki behind. Tobi taunts Naruto for having expended so much energy on just one bijuu. He says Naruto has "valuable things" that he intends to take, so he won't hold back. On the next page, the terrible power of the remaining bijuu is unleashed. It looks pretty bad for Naruto and his allies.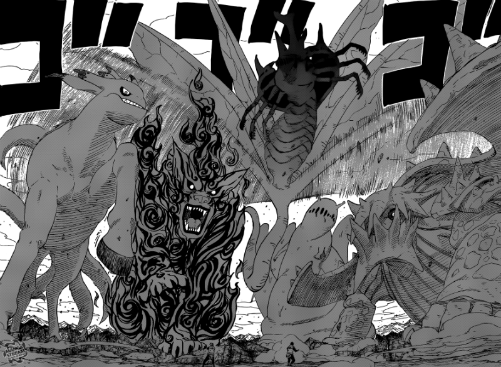 Gai and Kakashi look tiny before the might of the awesome bijuu.

At this moment, Kurama finally speaks up. He offers to lend Naruto his power, but Naruto first tries to thank him for helping him earlier, which makes the beast bristle and insist it was only because he'd rather be under Naruto's control than Madara's. Naruto gets angry and starts to yell at Kurama for his rude response, but then suddenly stops himself.

Kurama has reached one paw through the bars of his cage. He offers his chakra to Naruto again. Naruto asks if they're going to play tug-of-war again, and the beast teases that he's bored and wouldn't mind playing—but Naruto doesn't have to do that this time. Naruto smiles and, accepting his offer, bumps Kurama's fist with his own.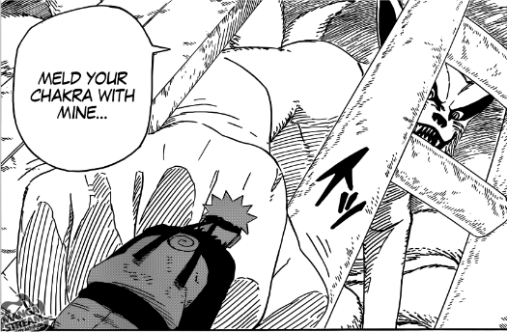 Kurama offers Naruto his chakra.

Re-energized, Naruto is ready to jump into the fight with Bee at his side. There is some argument about who will take point, but Naruto insists that they are in this together, not just him and Bee, but their tailed beasts as well—a pair of duos. From this, Bee realizes that Naruto and the Kyuubi have come to an understanding, and Naruto is using the beast's power.

As the seal on Kurama's cage slowly unwinds, Naruto remembers the acknowledgement he first received from Iruka—the affirmation that he wasn't a monster, but a citizen of Konoha. In the same way, Naruto now acknowledges Kurama as his teammate and fellow citizen. Kurama chuckles as his cage doors are thrown open, and Naruto says, "Let's go!"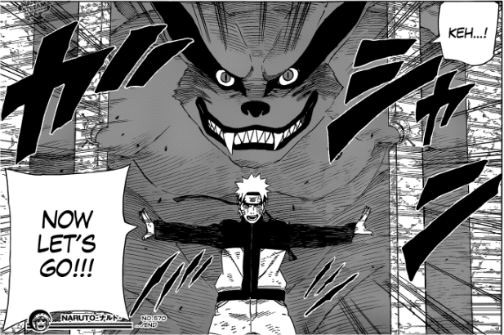 Kurama is free from his cage, and acknowledged as Naruto's teammate.
Thoughts on the chapter
Fist bumps

I included in the chapter pics above both the moment when Son Goku gives Naruto something helpful (but doesn't specify what) and the moment when Kurama offers Naruto his chakra. I'm guessing that means Goku was also giving Naruto some chakra. I think it's interesting that these "gifts" were signaled by a fist bump—a motion that in previous chapters has been shown to signal the exchange of thoughts (or intentions or memories). Coincidence?


Teammates

Naruto finally seems to have formed an alliance with the Kyuubi. (Or at least, I hope that's what's happening here; it is also possible that Kurama intends to betray Naruto's trust, but I don't really think that's where this is going.) I felt like it was a long time in coming and it has been built up fairly well. I'm excited to see what will come of it. I like the way Naruto calls Kurama his teammate. Considering how some ninjas have been shown to consider even their non-verbal animal companions as akin to teammates (such as Akamaru and Shino's bugs), it's more than fair for a jinchuriki to accord his or her tailed beast, who is verbal and probably more self-aware, at least that much regard. However, I'm not sure what I think of Naruto identifying Kurama as a teammate from Konoha. Is there any reason the Kyuubi would be loyal to Konoha, the village that has held it prisoner for so long? Kurama doesn't seem especially offended by Naruto saying this, though.


Madara/Tobi

It's interesting that everyone keeps referring to Tobi as "Madara" in this chapter. I'm not sure what this signifies.


The Gedo Mazo

Son Goku says that the Gedo Mazo is the source of Tobi's control over the bijuu. I will venture a guess that the key to ending this fight will be somehow breaking either Tobi's connection to the Gedo Mazo, or else destroying the statue itself. That way the bijuu can be released from his control. Perhaps then Naruto will be able to form alliances with the rest of them. Otherwise, something else could cause Tobi to temporarily retreat, and breaking the power of the Gedo Mazo will come later in the story—possibly in the end game.


Joie