Chapter 564: No One

The chapter opens with Naruto's fierce headbutt of the masked man, whom I will go back to calling Tobi for the time being. Instead of slipping through him, as might have been expected, Naruto bounces off of Tobi. Tobi says he expects more from the power of the Nine-tails. The rest of the Edo Jinchuuriki come in from behind him and immediately start showing off their powers.

Roshi, host of the Four-Tails, hurls magma-infused boulders. Yagura, host of the Three-Tails and the Fourth Mizukage, has a mirror technique that creates doppelgangers of Naruto and Bee with at least some of their powers. (This brings to mind the technique Akatsuki used to keep Team Guy occupied during the Rescue the Kazekage arc.) Utakata, host of the Six-tails, who was introduced in the anime before he appeared in the manga, uses bubble-shaped explosives. Fu, the host of the Seven-Tails, uses a technique that seems to blind her opponents, which allows Yugito, the Two-Tails, and Han, the Five-Tails, to come at Naruto and Bee with physical attacks. Naruto and Bee manage to deflect all these attacks, although it's not easy.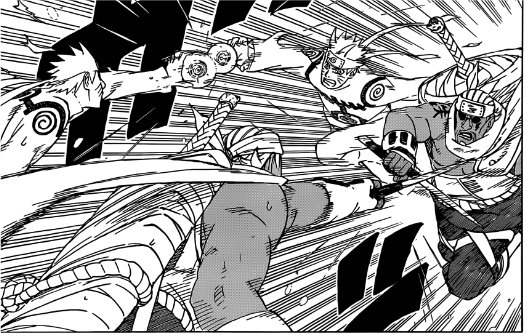 The former Mizukage's power seems to create some sort of doppelgangers.

During the fight, Bee notes that the Edo Jinchuuriki have had Sharingan and Rinnegan implanted in their eyes, one in each. He seems disgusted by this violation of the Jinchuuriki, especially his former comrade Yugito, and Eight-Tails reminds him that if he'd been caught, he, too, would have been subjected to this. Naruto realizes that Tobi, now with two eye holes in his mask, has the same pattern of Sharingan + Rinnegan. He blurts out that the Rinnegan is "like Nagato and that other Madara", cluing Tobi in to the fact that "the real Madara" has been discovered. He remembers the final coffin and curses Kabuto.

When Naruto asks Tobi who he really is, he answers that he is "no one" and explains that all he cares about is completing his Moon's Eye plan because the world is "worthless". He says that Naruto and Bee should understand this because of the misery of living with Tailed Beasts inside them. Naruto counters that hosting a Tailed Beast isn't all bad, and the Kyuubi inside him seems to perk up (with curiosity, perhaps?) at this statement.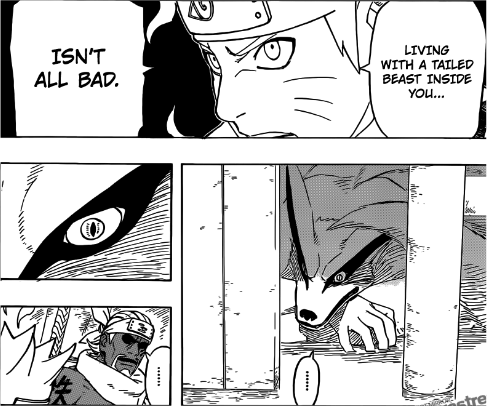 The Kyuubi reacts to Naruto's statement that having a Tailed Beast inside him isn't all bad.

Naruto tells off Tobi, saying that no matter what he tries to call himself, he's still just one guy and no one believes his lies. Naruto threatens to tear his mask off and Bee chimes in with glee. Tobi reaches for his mask, as if he plans to finally reveal his face, but instead he says that if Naruto wants to see what's under his mask, he'll have to earn it.

Suddenly, the way to Tobi is blocked by the Edo Jinchuuriki, who now have manifested one tail each. Tobi insists that he will capture Naruto and Bee and complete the Moon's Eye plan.


Thoughts on the chapter


Tobi is surprised that Naruto doesn't go right through him at the beginning, like usual. Does this mean his technique failed? If so, why?


I'm curious what benefit there is in giving the Jinchuuriki the Sharingan and the Rinnegan. So far, they don't seem to have fulfilled much purpose, except to freak Bee out, and perhaps to develop the old theme of taking monstrous measures to increase power.


At this point, Tobi's answer to the question of his identity is a non-answer. It may be fitting thematically, but from a plot perspective, I find it unsatisfying. I feel that the question of who or what Tobi is still needs to be explored further. I wonder if there will be more answers soon, or if the mystery will be deferred once again.


For me, the most interesting part of the chapter was the Kyuubi's reaction when Naruto says that having a Tailed Beast inside him isn't all bad. What do you suppose Naruto means by this? What do you suppose the Kyuubi thinks he means by it, and why does he react as he does? Could this be the beginning of an almost-friendly understanding between Naruto and his inner demon?


And finally, back to Tobi: I would guess that in this chapter we're seeing a more sincere side of him, and that when he states his reason for the Moon's Eye Plan—that is, the so-called worthlessness of the world—we can probably believe that this is his real motive, and that his ambition is mixed with real despair. What could have brought him to this frame of mind? I admit, it reminds me, in a way, of Sasuke during his last confrontation with Kakashi. I think whataver Tobi's motivation is, it will be an important part of the answer to his identity.


Joie