Chapter 559: Reinforcements Arrive

The chapter begins with the half-clone of Mu summoning the mysterious coffin containing Kabuto's "trump card". Another revived shinobi emerges, commenting on the growth of Nagato and the terrible nature of Edo Tensei—but we do not see his identity.

Back on the battlefield, Naruto (or possibly one of his clones) is fighting off the Zetsus. He asks Hinata if she's all right. Kiba, Neji, and another ninja comment on Naruto's arrival, and Kiba and Neji note the changes in his smell and chakra signature. They are concerned he may not be the "real" Naruto and ask him how he can prove it to them that he is. Hinata is sure that it is really Naruto, though, and Shino points out that he did come to their rescue. Naruto waves off the suspicions of the others and says they need to get to work on rooting out the fakes.

Hinata worries that she always ends up being protected by the person she most wants to protect. Naruto, seeming to read her mind, says that she shouldn't worry. He wouldn't want her to have to save him twice. Remembering how she jumped in to fight Pain when he was down, he assures her that she is strong. Hinata is grateful for his reassurance.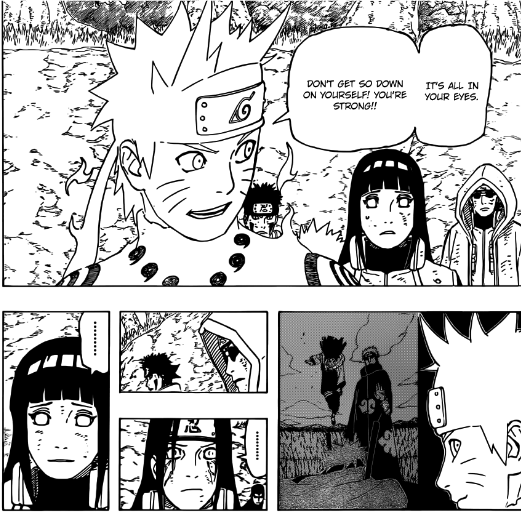 Kiba, Shino, and Neji seem impressed (curious? thoughtful?) at Naruto's praise of Hinata.

Meanwhile, at the most remote major battle site, Kakashi and his unit are still fighting the Seven Swordsmen and a few other Edos. Sai uses his ink technique to seal Fuguki Suikazan, and Gai announces that they have "just three more". Sai presses on with his sealing techniques, and Lee pledges to protect him.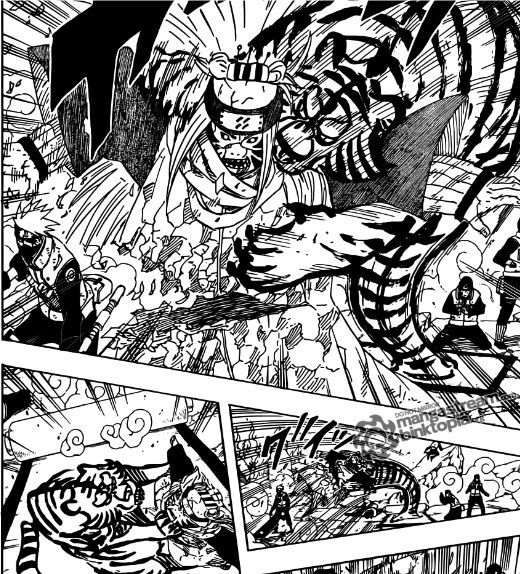 Sai seals one of the Seven Swordsmen with his ink technique.

Suddenly they are approached by a legion of Zetsu clones. But reinforcements for the joint army arrive as well, in the form of another Naruto clone. Lee suggests that Naruto use shadow clones, but Naruto says he can't do that in his current state—he has to provide quality over quantity instead. In addition to the Zetsus, he faces off against Kimimaro and Chiyo—the latter seems to have acquired an impromptu puppet in the form of a samurai suit (or possibly corpse).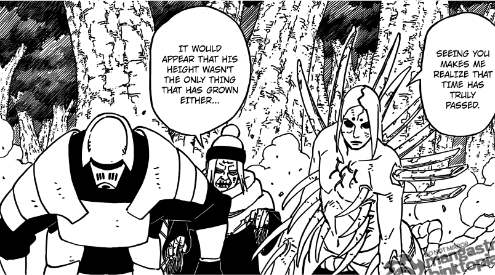 Kimimaro and Chiyo comment on Naruto's growth.

And finally, at an unknown location that is possibly even farther away, another Naruto clone is about to face the bi-colored Zetsu that threatens the Mizukage and her team (including a couple of familiar Konohans). But Naruto has exerted himself too much—perhaps because of the increased distance—and collapses.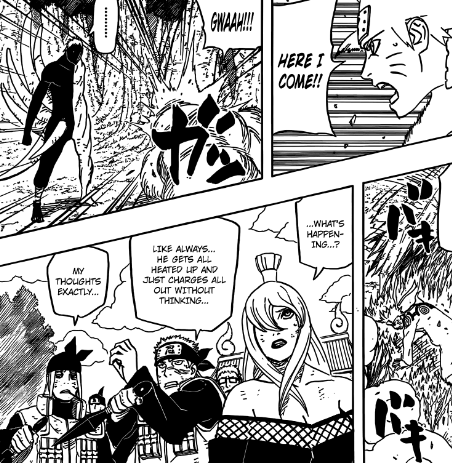 The Statler and Waldorf of Konoha are exasperated at Naruto's collapse.

Despite this setback, on all other battlefields, Naruto and his clones are turning the tide in favor of the joint army. Shikaku suggests concentrating all remaining forces on capturing Madara. However...

Ao senses an anomaly at Gaara's battle site, just as Gaara and his subordinates notice the half-clone of Mu approaching. With him is the mysterious occupant of the last coffin—none other than Uchiha Madara!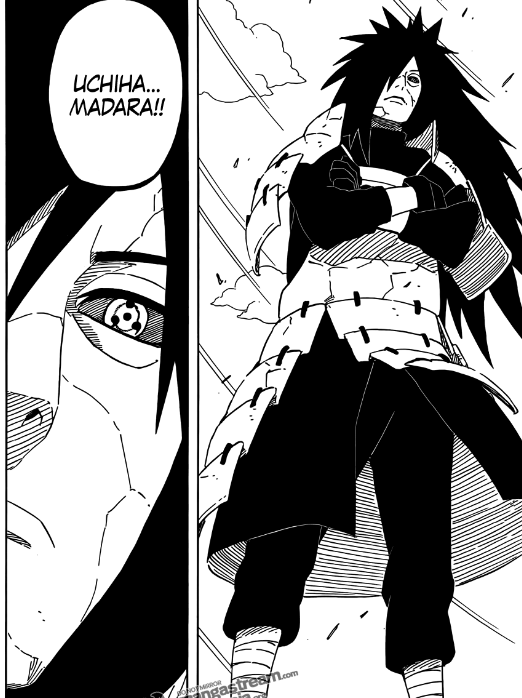 Uchiha Madara looks much like he did when he faced the First Hokage at the Valley of the End.

This surprising turn of events leads Gaara, Naruto, and their companions to realize that the masked man they believed to be Madara may, in fact, be an imposter. Meanwhile, this mystery man is still leading the former jinchuriki Edos to an unknown destination—perhaps to capture Naruto and Bee.


Thoughts on the chapter


Yay, Naruto finally makes some acknowledgment of Hinata's actions in chapter 437! In the series timeline, it hasn't really been that long since she tried to help him against Pain and confessed her love for him, but it's been a long time for fans. It's good to see this finally addressed, although of course it is as subtle as such things usually are in shonen, and still leaves the "shipping" situation fairly ambiguous. It does show that Naruto appreciates what Hinata did, and it demonstrates that the two of them have developed enough of a rapport to read each other's facial expressions easily. This scene is a great development for the NaruHina ship, but it doesn't especially signify a death knell for rival ships.


I'm so happy to review this chapter, because I always enjoy busy transitional chapters like this. It's good to see a variety of characters, some of whom we haven't seen in a while. I enjoyed Sai's cool competence and stamina in the face of sealing enemy after enemy and Lee's typical abundant exuberance. It was great to see Genma and Raido again, as well as the (current) Mizukage.


I'm glad that Chiyo and Kimimaro are still kicking and that we might see more action from them before they're sealed. I do wonder who the third remaining Edo at that battlefield might be—I'm hoping it's Suigetsu's brother, and that we will still see Suigetsu and Juugo show up at this battle site.


And finally, we have the big reveal that those fans who have maintained doubts about "Tobi's" true identity were indeed justified in those doubts. Something is amiss. Unless we have been misled about how Edo Tensei works, or unless Tobi is some sort of very unusual clone, it appears almost certain now that whoever and whatever he is, Tobi is not Uchiha Madara. Which raises the question: Who is he? At this point, I think the most likely answer is Izuna Uchiha, but the field of possibilities is quite broad. Considering all our previous information on eye transplantation, Tobi certainly doesn't have to be an Uchiha, and if he's not, that could have some interesting implications for his whole narrative on the Rikudo's two sons and the destiny of the Uchiha—and Sasuke. But even if Tobi is Izuna or some other Uchiha, the lines are still blurred, because we now have the opportunity to learn the real Madara's take on things—and I suspect it will be quite different from Tobi's. The appearance of the real Madara could significantly change the "cursed Uchiha" narrative as well.


Speaking of Madara's take on things—what is his connection to Nagato? As far as we know, Nagato would have lived long after Madara died. If that's true, then how did Madara learn of him, and why does he seem to think Nagato has something to do with the scene that greets him when Mu summons him?


Joie