Chapter 502: Yondaime's Battle to the Death!

The chapter opens with three short scenes: First, we see Itachi comforting a fussy baby Sasuke and promising to protect him no matter what. Next we see teenaged Guy and Kakashi, acting very much like their adult selves. Third, we see Sandaime, who realizes that something has gone wrong.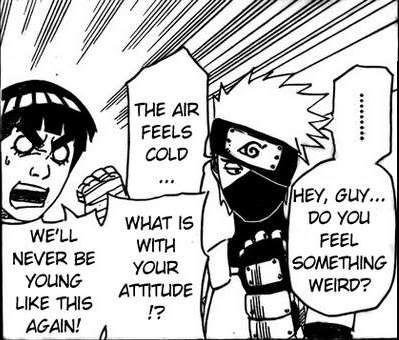 Teenaged Guy and Kakashi are the same as ever.

Then, we see the mysterious cloaked figure, who has created a summoning jutsu to bring Kyuubi into the village. Kyuubi appears on the edge of the village, wreaking havoc like Godzilla, and the villagers begin to panic. A masked Anbu reports the Kyuubi's appearance to Sandaime. The former Hokage wonders at how the precautions they took for the birth could have failed as he prepares to fight to protect the village.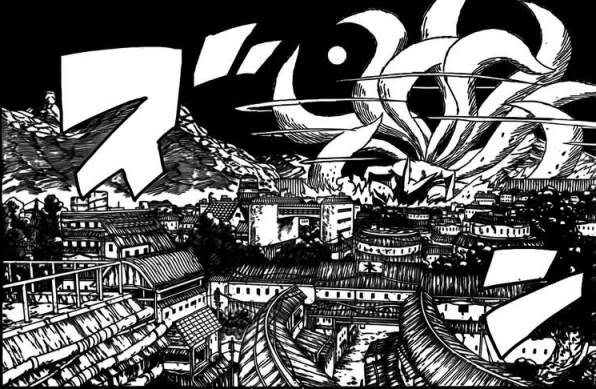 Kyuubi-zilla wreaks havoc on Konoha.

Meanwhile, somewhere near the Hokage mountain, Yondaime confronts the Kyuubi. The fox spits a ball of chakra from his mouth, and Minato uses his space-time jutsu to create an opening in the mountain and send it to detonate harmlessly somewhere far away. We see a single panel of Shikaku Nara and Choza Akimichi (and maybe Inoichi Yamanaka, barely visible behind them) watching from afar and recognizing this as Minato's jutsu.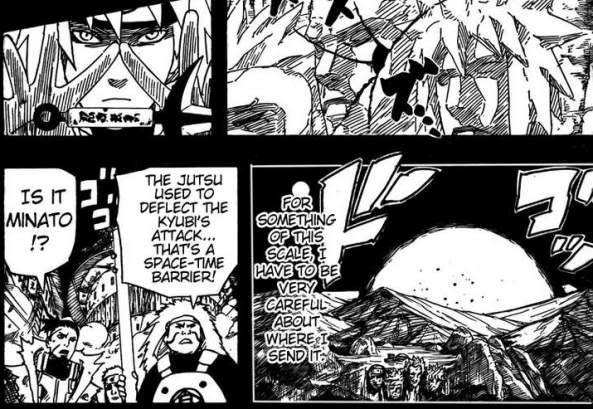 The original Ino-Shika-Cho (assuming that's Inoichi back there) recognize Minato's handiwork.

The scene returns to Minato, who is thinking of how he needs to contact Sandaime right away. The cloaked man sneaks up on him and Minato spins around to attack him with a kunai, but his attack passes right through. The man grabs his wrist instead. He tries to pull Minato into his teleportation whirlpool, but Minato escapes by teleporting away and tries to analyze what happened. The man soon reappears in front of him with the characteristic swirl that readers have seen Tobi/Madara create before, and Minato realizes he also uses space-time jutsu. Analyzing that along with several other clues, Minato begins to make a guess at his opponent's identity.



The masked man tries to trap Minato with his swirling space-time jutsu.

He asks, "Are you Uchiha Madara?" But the man doesn't answer, and even Minato expresses doubt that Madara could still be alive. He then shifts to another question: "Why are you attacking Konoha?" Madara answers that it's "both a whim and a plan" and "both for war and for peace". Minato realizes that no matter what his identity or intentions, he's probably more dangerous than even the Kyuubi, and must be stopped no matter what. He decides to continue to battle this enemy on the outskirts, and trust Sandaime to take care of the protection of the village.

The man lunges at Minato, passes through him, and captures him with the chain he was dragging behind him. But Minato uses his Hiraishin (Flying Thunder God) technique (the trick where he teleports to a marked kunai) to escape. Minato realizes he will only be able to attack the man while the man is attacking him.

Minato lunges and throws a kunai, which goes through the man, who grasps Minato's arm and thinks he has the victory. But in fact, Minato planned for the kunai to pass through his enemy. This allows him to use Hiraishin to teleport to the kunai, which enables him to plunge a Rasengan into the man's back.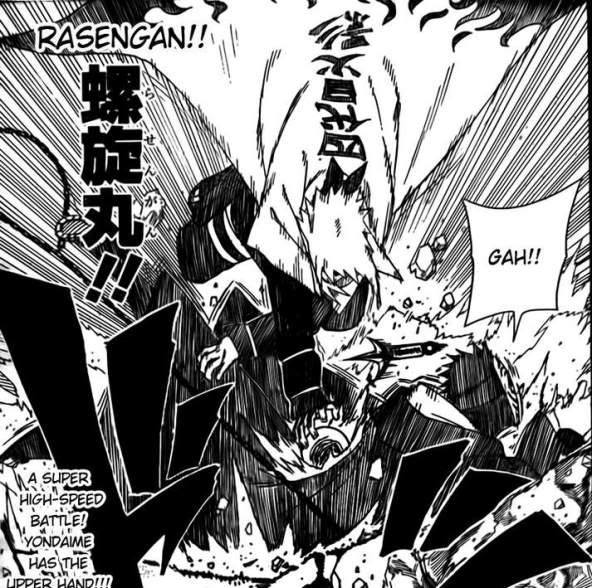 Minato uses his teleportation to surprise the masked man with a Rasengan from behind.



Around Konoha: Putting the attack in context

My favorite parts of this chapter are the little scenes around Konoha that show the context of the attack and remind us of who was there and what stage of life they were in. Here are each of the mini-scenes around the village:

First, there is Itachi with baby Sasuke. Of course, we saw Sasuke in ch. 500, and Itachi was with him in the last chapter, so this is not new. What is new is that Itachi mentions in this chapter that his parents are away. This is curious for two reasons. One is that, as mature as Itachi is, and as differently as age is portrayed in the shinobi world, it does seem odd for a 5-year-old to be given exclusive care of a 2-month-old infant while his parents are away. The second reason is somewhat related to the first. Why are their parents away—and why, especially, has Mikoto left her two-month-old? At that stage of life, it's unusual for a (presumably) breast-feeding mom to be away from her baby. For this reason, I suspect Itachi's comment that his parents are away is not some throw-away line, but a clue that something else is going on with the Uchihas.

The other interesting thing here is Itachi's portentous line that he will protect Sasuke no matter what. Of course it foreshadows the actions Itachi will later take to spare Sasuke's life and to sacrifice his own life to give Sasuke a chance at restoring the clan's honor. But there's also, I think, a bit of sad irony in the line, as Itachi has failed to protect Sasuke in many ways—in fact, he inflicted a lot of pain on him psychologically, and his actions helped lead Sasuke to his current destructive (and self-destructive) path.

Second, Guy and Kakashi provide a little moment of comic relief. They should be around 14 at this time, but, at least in this moment, they seem to act exactly as they do in the present timeline.

Third is the retired Third Hokage in his study, smoking a pipe and looking very chill. Yet, when the call to battle comes, he is ready.

Next, we see some random villagers being thrown around and/or frightened by the Kyuubi. Not much to say about this, but it does make me wonder if we will see the death of Iruka's parents at some point during this flashback arc.

Finally, we see the fathers of some of the rookies. I'm pretty sure that we are seeing the previous Ino-Shika-Cho team, but Inoichi is kind of in the background and I'm not 100% sure it's him. (The poor man, in a manga that usually marginalizes women, is forced in the background merely because he had a daughter instead of a son, lol.) Of course, they are all young parents at this point in time.

Is it really Madara?

There still remains some mystery about the identity of the masked man. Even as Minato comes to what seems like an inevitable conclusion, he still doubts that Madara could really be alive. For whatever reason, it seems that Kishimoto still wants to cast some doubt on the masked man's identity. However, I will say that I feel this chapter does make it clear (if it wasn't already clear) that the masked man in the flashbacks is the same as the one in the current storyline. The swirling teleportation technique that appears in this chapter matches the one we've seen "Tobi" do, and I don't think that's likely to be a red herring. I do hope we'll discover more about his motives and identity before this flashback is over.

Yondaime

I don't have much to say about Yondaime and his fight with the masked man, except that he was clearly very cool and competent, and that he seems to be the same sort of intellectual fighter as Kakashi, Shikamaru, and Sasuke. As readers had already been told be Kakashi and Jiraiya, his fighting style is very different from his son's. Yet, there are some similarities—he did pull out the Rasengan there at the end.


Joie